To learn more about our high-incline cleated belt conveyors, contact Cambelt experts today.
With over 60 years of experience in designing quality conveyors, Cambelt International stands to be your best option for industrial strength high-incline CamWall & CalmFlex. We offer a variety of incline conveyor belt types, which include our ST (straight), L (single turn), and Z (two turns). Whether you need heavy material handling, loading and unloading solutions, across all industries including mining, oil, gas, power, and agricultural sectors, our one-piece molded side wall high-incline CamWall & CamFlex conveyors can assist. Cambelt conveyor belts are guaranteed to not delaminate.
Cambelt high-incline cleated conveyors come in different lengths and can handle varying load capacities. The belt lengths, load capacities and application requirements are engineered specifically to your needs.
There are several benefits to using Cambelt high-incline belt conveyors, including:
One piece, fully-molded construction includes sidewall.
The ability to move large quantities and delicate dry materials quickly and efficiently.
The capability to work in extreme operational conditions:

Fat & Oil resistant
Heat resistant
Flame retardant
MSHA rated

The reduced need for transfer points and handling equipment.
The ability to transport materials up steep inclines that would be difficult or impossible to navigate with other methods.
Eco-friendly, featuring a dust-tight design to prevent the intrusion of unwanted weather and mitigate fugitive dusting, issues commonly observed in other conveying systems.
Industrial strength for lower operational and maintenance costs!
NO GLUED-ON CLEATS.
NO GLUED-ON SIDEWALL.
NO DELAMINATION!! NO DEGRADATION!
Thanks to our patented field proven belting systems, Cambelt cleated high-incline belt conveyors offer superior durability while handling delicate materials, thereby reducing material degradation and delamination, a significant issue in comparable systems.
All of our high-incline and enclosed conveyor systems are proudly engineered and carefully manufactured in the USA, at our HQ and facility located in Salt Lake City, UT.
We offer high-incline cleated belt conveyors, tailored to your specific requirements.  Our experts can engineer, design and construct conveyors at any angle of incline or combination of angles, including vertical conveyors.
With our versatile manufacturing capabilities, we can create conveyors in different configurations: ST, L, and Z to suit your unique needs.
Our commitment to precision and attention to detail ensures top-quality conveyor solutions that exceed your expectations.
Our steep-incline conveyor systems can be enclosed and dust-tight or open as requirements dictate. Enclosed systems are a dust-tight configuration to keep weather out and protect the environment from uncontrolled dust particulates.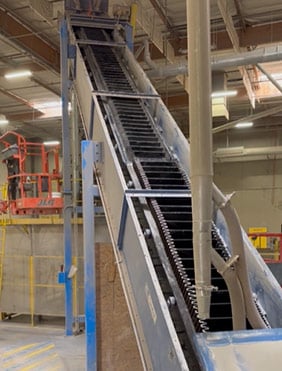 M

o

r

e

 

o

n

 H

i

g

h

–I

n

c

l

i

n

e

 C

l

e

a

t

e

d

 C

o

n

v

e

y

o

r

 S

y

s

t

e

m

s
Engineering and designing the ideal conveyor system should be simple and utilize your available space. To make this happen, cleated belt conveyors are often used. This specialty mode of material transport allows your facility to condense the production footprint while increasing material output. High-incline CamWall & CamFlex conveyors can be optimized for your space and material requirements.
We are here to assist with your industrial belt conveyor design and systems requirements. View all our heavy-duty products and contact us to speak with one of our sales engineers to determine which belt conveyor is suitable for your application.